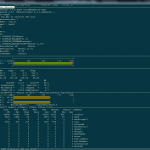 I've previously blogged about my belief that ARM servers are a big part of the future, and that server manufacturers are missing a trick by not testing the market with small, cheap, ARM servers, but I wondered if maybe they knew something I didn't.
To find out what I was missing, I bought the closest thing I could find to a generic ARM server, the Beaglebone, an ARM development board from Texas Instruments, with a TI AM3358 ARM Cortex-A8-based microprocessor, 256MB of RAM, 100Mb ethernet, a couple of USB ports, a micro-SD card slot and not much else.
I've had the beaglebone for a few months now, and done various things like installed Ubuntu on it, put it in a Beaglebone custom case so it's not a bare board anymore, run nodejs services, a VPN to get home network access from my phone and laptop, and generally used it as if it were a normal server, without any real issues.
So, now it's time to take it to the next level – I've paid for the beaglebone to go into a colocation rack in Telehouse North, with a friendly colocation company called Jump Networks who were happy to help out with the experiment, and who only charge for £50 + VAT for installation and a very low monthly cost for hosting the equipment, as little as £5 per month – perfect for an ARM server.
And now, my tiny ARM server is live, running on the Internet, doing real stuff for my work, while we learn the limitations and issues of running an ARM server in the wild.
So far, I've found out the following things:
While USB is nice for a console at home, servers really need Ethernet or Serial consoles
256MB of RAM is enough, but not plenty
Micro-SD card performance is highly variable, and generally rubbish
If you measure the power usage of a Beaglebone, you might not get a good answer – it's too low for most meters!
Of these, only the third one has been a real issue for far – I've already had one SD card go bad while running the bone at home. If it happens again I'll need to send a new pre-configured SD card to insert into the slot. The lack of a serial console hasn't been a problem yet, but I expect it to be at the most awkward moment possible…
All 3 problems are solvable, for a price, the Beagleboard XM for example has a serial console, and 512MB of RAM, but costs £125 as it comes with lots of other features a server doesn't need, like DVI-D and S-Video ports, along with a slightly faster 1GHz CPU. While the price isn't "high", it's twice the price of the Beaglebone.
So for now, the Beaglebone will run day to day, doing real world things, and perhaps I'll find out why server manufacturers aren't making these things, and why hosting companies aren't buying them in bulk yet. In the mean time, if you've got any questions about the Beaglebone, let me know and I'll answer them the best I can.
Update – I've now configured the Beaglebone to run WordPress with nginx caching and done some pretty successful load testing on it.